Today (31 Mar 2016) we have released a major update to the XJTAG XJEase library.  The new library will be installed if you update to version 3.4.5 of XJTAG which is also released today.
After you upgrade to a new version of the library, whenever you open an existing project that uses XJEase library files XJDeveloper will check each file to see if there is a newer version available and then offer the user the option to update the file.  If any library files have been modified in the project the updater will highlight this and not offer to automatically update the file.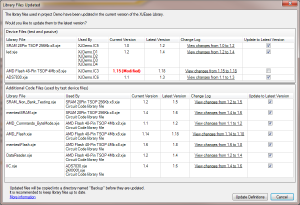 XJEase library Update dialog (click on the image for full-size view)
If you do not want to update any of the files in an existing project then the update dialog can be cancelled, and then you can select whether or not you want to be asked about updates for the project on opening it in the future.

For any files that you do decide to update, the original version will be copied to a Backup folder, which will be created in the project folder, so that if you do decide to roll back the original files will be available.
If you want to upgrade to the latest version of XJTAG but do not want to move to the latest library just yet then before you upgrade make a copy of the existing library.  The location of the existing library can be found by going to the Tools menu in XJDeveloper and selecting Options.  In the Options dialog go to the files page and you will see the location of the XJEase library.  Make a backup copy of the library and then after you have updated to the latest version of the XJTAG software, the same page of the Options dialog can be used to point XJDeveloper at the old library version.